Joined

Dec 2, 2019
Messages

97
Reaction score

73
Age

34
Location
Hello all,
I'm only two months solid purposeful flying and filming and 9 YT vids posted but already wanting to push to a higher level.
I started filming in 1920x1080 and now have the unit almost totally on the highest 4096x2160 which I then push through to 4096x1679 to give it the 2.35:1 ultra wide screen concept. See image below.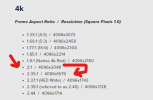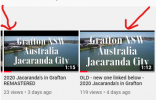 The first image is 13% top and bottom reduction to produce a black bar to account for the 1679 height and the second is at 1920x1080 with the narrow bar but not as cinematic.
BUT I don't like the black letterboxing and although I like the white letterbox option it's the final product of placing a white matte over the footage in 4096x2160 to give it the crop or ultra wide effect.
SO I'm wondering if anyone here has adapted the CGO3+ with an anamorphic lens adapter or changed the lens to more wide.
Now, please excuse my lack of knowledge and my brain hurts too much if you start talking maths to me, so I'm really only after a yes, or no, or that's a good idea - this is the lens that will give you that effect solution or suggestion.
Another H flyer on YT (are you here? - jcommstudios) said they changed the lens out to a Peau 3.97. All the mathamagicians here - will that give me a closer to 2.35:1 shot? Then second to that question - how does changing the lens go with selecting which resolution to film or photograph in?
Thanks in advance.