Joined

Mar 23, 2016
Messages

1,760
Reaction score

1,410
Location
The other day I got a motherboard from a crashed H520. What I noticed immediately was a burned ground cable, which was only connected to the mainboard with a few wires from the strand of the ground cable.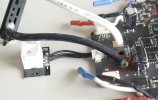 The battery contacts were also no longer usable. The contact springs had lost their spring force. In the case of the ground contact, the contact spring was completely bent.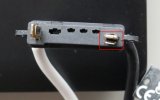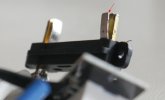 This can be seen clearly at the ground connection. At high currents, the contact pair becomes very hot and the contact resistance increases dramatically. The voltage breaks down and the drone loses power, which can be end up in a crash.
The same result has a cold solder joint on the battery cable. Here we see both. What is cause and what is effect is impossible to say. In any case the drone crashed.

→ All in all unfortunately a typically example of such contact problems.
What can be done preventively?
Well, in any case, when pushing the battery in, make sure that it snaps in properly and can be pushed tightly onto the contacts. If this is too easy, you should think about it.
Every now and then, you should look inside the battery well and check the contact springs. They should be curved and rest against the top of the contact.
Also the battery contacts should always be subjected to a critical inspection.
Check to see if there are any severe voltage drops in the flight logs when the drone is taking off. This indicates either an old, weak battery or such problems of the battery contacts.
Regular checking of the voltage chart in the flight logs is highly recommended anyway, in order to detect power supply problems before it comes to a crash.
To simplify this, there is a battery test tool:
GitHub - h-elsner/BatteryCheck: Post-flight battery quick check: Evaluate the condition of the flight battery on base of the voltage curve under real load.
br HE