With the new European drone laws, I decided to move on from the heavy DJI Inspire 1 X5, which now has some pretty severe restrictions on its use. It was close call between the H3 and the Autel Evo 2, but the Team mode on the H3 finally won it. Also, I currently fly an H520 for surveying and I'm hoping I can do something with the battery connectors and use my current stock of H520 LiPos.
Once I'm sure it works correctly, I will start taking the H3 apart and perhaps we can get some answers for this machine. I don't own a Typhoon H Plus, so I will be comparing it to the H520/E90 machine. (I've already been ogling at the gimbal rates/expo screen and reminiscing of my H480 days...)
To start with, does anyone recognise the battery connectors? Very unlikely that Yuneec decided to design a brand new connector, so it is probably a standard type that can be got hold from an electronics supplier. There are already third party balance cables for the H3 battery, so someone must be making them. I've been doing Google image searches, but hopefully someone on here will just recognise the type.
Comparing the flight battery with the H520:
The label on top is the same except for the code on the bottom left.

On top, around the catch, is a sticker with a silver line telling you to keep pressing in if you can still see it! It takes a lot more force to get the H3 battery all the way in (it might just be the sticker itself causing that). The silver line is just on the sticker.
Some close-ups of the H3 battery's connection sockets: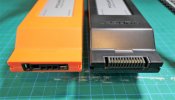 Other than the connection socket, the battery casings look exactly the same.
Last edited: