Basic drone package - $525 plus shipping:
Typhoon H Pro Hexacopter Drone, with Intel RealSense depth sensor AND 4k video/photos on a completely controllable gimbal.
2 low-use well-maintained original Yuneec batteries for drone
Original GCO3+ camera/gimbal with cover
Original ST16 controller
Original Yuneec battery charger with AC and 12v cords.
Extra propellors
Polar Pro ND4, ND8, and ND16 filters
Yuneec "Wizard" controller (never used)
Original Yuneec backpack-style drone case
*****************************
Hexacopter! Low hours! Never crashed! A total of 6 original batteries regularly maintained at storage charge!
This is the version with the Intel RealSense depth camera for collision avoidance, and also includes 6 genuine Yuneec batteries, a 4-battery charger/maintainer, Polar Pro 4, 8, and 16 ND filters, a lightweight protective backpack, and an extra controller for two-person flying/filming. This supports one person flying the drone, while the other person steers the 4k camera gimbal.
The charger is a VenomXTS Typhoon H Pro 100w X4 charger/discharger/storage charger custom for the Typhoon H Pro batteries. It simultaneously charges 4 batteries and the remote controller. It can fully charge, storage charge, or recondition 4 batteries at one time.
Yuneec says:
The Typhoon H Pro with Intel RealSense Technology, winner of the Consumer Electronics Show "Best of Class" provides capabilities for enthusiasts previously only found in high-end professional drones, yet at a consumer price. The Typhoon H is equipped with Intel RealSense Technology, six rotors, a 360-degree gimbal camera and retractable landing gear with Yuneec's standard of being ready out of the box, easy and safe to fly, with stunning Ultra HD 4K video and stills. The Typhoon H with Intel RealSense Technology is capable of detecting obstacles and intelligently navigating around them, gives you the freedom to explore new creative options. RealSense integrates with Follow Me mode to avoid objects while filming in any direction. The Intel RealSense R200 camera with Intel Atom powered module builds a 3D model of the world, allowing you to focus on the subject without worrying about flying into obstacles.
Reference:
Amazon is selling a refurb without RealSense or batteries for $700, just a drone & controller.
Reason for sale:
Shortly after purchase, my employer bought a small fleet of DJI drones. This drone was never used commercially or rented out; it was my personal drone, and only used for a few months.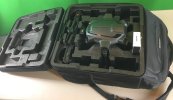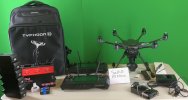 Last edited: