Two controllers with diff updates.
i downloaded all files but cant figure what file (s) to put on the sd card and boot from.
i suppose first i should ask is should i even bother to update ?
first controller screen is i think all up to date ??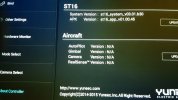 second screen is way diff,,one major thing is the RTH setting i cant find in the same place as on the first controller.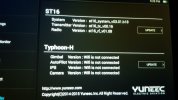 my first guess,,,
is Yuneec-App-release.apk . on second one.
then . TyphoonH_FC_V1.35_3_3_2017.yuneec . on both controllers.
tnx..
Last edited by a moderator: