As i go to post this i see a suggested thread covering about the same thing as i just did,,cleaning a stick pot.
the stirring didnt work
or any amount of movement rapid or otherwise so apart it came .
i sold most of my stuff a couple years ago but kept enuf to get by with.
proper can of spray cleaner did the trick,,,but.....
the thing is i was reading thru this forum and found instructions on checking the controls past the hardware monitor part.
when i went in there i could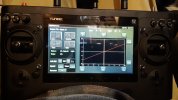 see how bad that pot was so i got into it right away..
i AM going thru the " manuals " that i have printed out while reading on the forum..
what you guys come up with sometimes is amazing,, and so much can be found with a search..
now to go read attachment 41
( pic,left stick perfect now)