Mám také stejný problém. ST 16 vidí můj starý dron Typhon H. Koupil jsem ještě také jiný dron Typhon H s Realsense a moje ST16 ho nevidí. Kamery umím aktivovat. Mám 2 kamery a umím je aktivovat (načíst -Bind).
Neumím (nevím) jak připojit ten druhý dron k ST16. Kamera snímá, ale dron nereaguje (není připojení). Jaký software nainstalovat? Nikde není manuál jak připojit jiný dron s RealSense. Mám originální manuál, návod. Jak aktivovat dron s RealSense v manuálu není. Na ST16 jsem RealSense označil (potvrdil). Neumím udělat připojení.
Translated with
www.DeepL.com/Translator
(free version)
I also have the same problem. ST16 can see my old Typhon H drone. I also bought another Typhon H drone with Realsense and my ST16 can't see it. I can activate the cameras. I have 2 cameras and I can activate them (load -Bind).
I don't know how to connect the other drone to the ST16. The camera takes pictures but the drone doesn't respond (no connection). What software to install? There is no manual anywhere on how to connect another drone with RealSense. I have the original manual, instructions. How to activate the drone with RealSense is not in the manual. I have marked (confirmed) RealSense on ST16. I don't know how to make the connection.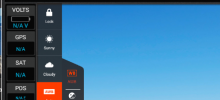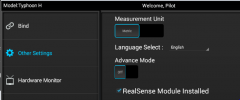 Last edited by a moderator: