One Hexy Pilot
Premium Pilot
Joined

Feb 24, 2017
Messages

2,994
Reaction score

3,174
Location
Website
BACKGROUND
Okay so it's been a while since I made a video. Life, the stupid Covid thing, and other stuff has kept me away for too long. However, I have a couple videos in the works with a 3rd and 4th planned shortly afterwards. One or two will be in the same vein as my other videos - informational tutorial types about our favorite subject. However the other two videos (the first of which I plan to have done very soon), is like nothing you've ever seen.
With that in mind, I know many of you are into video production and the art of film production so I thought I would start a thread showing you some of the behind the scenes stuff I have been doing and perhaps tease some of the forthcoming video's. I'll just apologize now for a long thread but I think you'll find it interesting.
I (and I am sure many of you), have long thought about if it would be possible to make a video about drones and in particular - show the drone in flight?
For those that have tried, you know the extreme complexities this represents. Just getting a still image of a drone from another drone at close distance take some very precise coordination. A couple years back when I was testing and refining my SteadyDrive, I was able to achieve a little success in straight line flight where I had a friend fly his H Plus (also with a n SD) in a straight line while I pursued and moved within feet as seen in the short clip below.
EARLY ATTEMPT AT FILMING A DRONE IN FLIGHT
That test was encouraging, but it left no doubt that complex shots would be near impossible. For instance, image your typical Hollywood car chase as filmed from the car chasing's point of view. On streets, no problem but; with two separate remotely piloted vehicles - hang it up - not happening. So as the title suggests, the way to do something like air to air shots with a drone will have to be done one of two ways - Old School with models or Newer School with digital technology. Well right off the bat access to film level animation or animators is out of the question - and this from guy who has a deep background in design a 3d animation - for stills.
So I have been looking at some old school techniques combined with some modern technology such as composites and keying (green screen). And I must say it is stunning. I will not show any clips because that might spoil the videos but I can show you some of the stuff I am working on as well as a few still from the actual film.
MODELS
So, three videos I had planned would have varying degrees of this new effort, the first should be finished by Christmas and was the test bed to see if I could pull off these shots. With that these early shots were some of the most simple and straight forward which is why I shot it first. In it there are many clips of a drone flying from camera angles and in ways you just can't do in-camera. Some are composites and one or two will be models. Some of you know I was in RC for a long time and my favorite discipline was scale modeling - making miniatures of real planes. I've worked with and seen models used in films and they always disappointed in real life when you see one up close; while on screen, they work because the audience has suspended disbelief.
So for my films I would need two models, I bet you can guess which ones I needed - yep a Typhoon H Plus and a Mavic 2 Pro and I needed the Mavic 2 Pro first because it was 'starring' in the first video
I made a post on another forum and suggested I had obtained a prototype "Mavic 2 Pro Mini" No one called me on it or had any questions. Here are just a few stills of the "Mini" Mavic.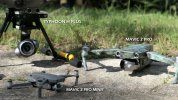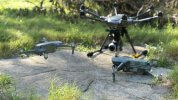 So everyone that saw these pics just accepted what they were seeing. No One said "wait a minute, there's no such thing". Suspension of dis-belief achieved in a still photo from 2 feet away? Check!
The picture below shows the model's actual size.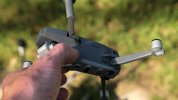 So now I know that model will work. I can't show anymore at this time . . . well I could but then I would have to . . . . . .you know. . . .

COMPOSITES - (Green Screening)
The major hurdle for me was that I was fairly good with compositing using Adobe After Effects but when they went to subscription prices fit-for-a-king, I bailed. But for the lest 9 months I have been working with the Studio Version of Davinci Resolve and it's effects engine - Fusion. Long story short, I've been doing some test plates over the last month or so and the results are blowing me away. Below are two frames from this first video and even though these are stills, the clips include maneuvering of the drone and staying in camera the whole time.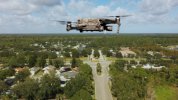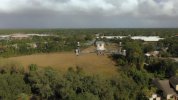 BEHIND THE COMPOSITE
These clips were made by first flying where the camera would be. In the first shot, I used the H Plus and flew about 100 feet in a straight line and then turned 90 degrees to the right while panning the camera further aft, the frame you see is about fifty feet into the flight before the Mavic 2 peels away and flies the other direction (Ever see and old WWII film where fighter peel away)?
The second clip is a simple ascending flight out and because it was simple, it was the first completed plate and clip I made that will be used in a video.
One thing that makes or breaks a shot like these is: lighting. If the light and shadows on the ground don't match those of the aircraft the shot cannot work. For this reason, the two shots were shot within mintes of each other and cartefull attention was given to direction. In fact, most of the work goes into planning the shots rather than shooting them
Well, thats about all I got for right now, if you're into this sort of thing hope you enjoy and if you have any questions or ideas I would love to hear from you.
Last edited: