Hello community! Looking for wire diagram for H520E gimbal connector. It is really needed!
I'm looking for a way to connect ETx gimbal to another drone (Pixhawk). I assume ETx should have HDMI output and SBUS control and if it is right - than it should be really easy to make it work on another system. But I need gimbal connector pinout for this or somehow to find which pin is responsible for.
If someone could help - will really appreciate this!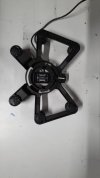 Last edited by a moderator: