After much consideration, I decided to part with both the Typhoon H 4k and the H+.
I just don't have the time to fly nor the desire.
Both aircrafts are in excellent condition, never, never had any issues. I do need to clean the H+ descending stick, it works just not at 100%.
I'll be cleaning that in the next couple of days.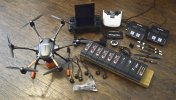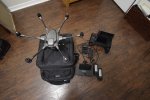 As you can see the H picture, there are now only 8 batteries and no extra motors.
The H has all new motors with only 25 hrs.
I have a log book with all the info of my flights
The H has NFZ installed.
The H+ I recently purchase from a gentleman in Kentucky, and he used it for search and rescue
Many exta items as you can see, especially the H
I am in Central Florida and be willing to travel as far as the northern boarder of FL.
So those who live in Alabama, and Georgia we can meet in that proximity.
Both drones will be flown while we are together before any purchase. I'll also have a tablet to view video and pictures.
Brings yours also, just incase, my tablet is 10 years old.
Letting go for $1,700.00, however I will not ship due to a total of ten batteries.
Last edited: