Joined

Mar 23, 2016
Messages

1,684
Reaction score

1,312
Location
During my investigations regarding "Stuck in Aquiring state" the IMU on the Flight controller board got attention as source of different problems.
Details can be found here:
http://h-elsner.mooo.com/pdf/GPS_acquiring_problem.pdf
It looks like MPU6050 chip as heart of the IMU has an aging problem when the drone was stored somewhere and not used for some time. That's why my recommendation is to power on the drone from time to time and do a accelerometer calibration. Of course it is best to fly it.
In case the IMU has a problem, usually, only the exchange of the flight controller (MCU-board) will help. But since this is quite expensive, we could try to replace only the IMU (make-one-out-of-two-method).
I added a guide how to replace the IMU on the flight controller of the Typhoon H to the HowTo collection on my homepage.
Here it is:
http://h-elsner.mooo.com/pdf/HowTo_Replace_IMU.pdf
The most important part is to find the right place to lever the old IMU to avoid damaging conductive paths on the PCB.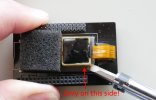 br HE