I am posting this because maybe other forum members and readers will find it helpful?
With the H520E (European CE-version) I use, the video connection regularly has some hickups: sometimes already from 300 meters but mostly it starts to occur from about 700 meters. As far as I understand from reactions of forum members some more users experience this as a problem.
The Hawks antenna system probably works well and might be able to prevent video interference at these distances, but my objection to it is mainly the hassle of mounting: you have to mount both the antenna itself and then also connect the ST16 with 3 cables. Besides, I find it a bit of a clumsy thing.
Then I got Amazon and Alfa antennas for free from the Netherlands Yuneec seller juist to try out if with one of these the video-issues could be mitigrated. I new hawks (from internet) but was not familiar with these two makes. To test these I looked at the video (on the ST16) during a flight of 1 km (3300 feet) away (I know what VLOS means, this was a simple once-only test).
A kind of dipole from Amazon gave no improvement. The Alfa antennas, on the other hand, showed no interference at all at 700 meters, and given the strength of the ODFM signal I flew twice as far with these (2 km). Also at this double distance there was no video interference at all.
I have very simply presented the results in little graphs. Sorry, the texts are in Dutch, but this is the translation/explanation:
STD Standard antennas
AMAZON Bought through Amazon, 'Gain 6 dB', 2 for 2.4 Ghz only
ALFA Alfa antennas, 2 for 2.4 Ghz, 1 for 2.4/5.8 Ghz
Blue line: Leaving
Green line: Returning
Red --- line: Video interference
Heen: Leaving
Terug: Returning
OFDM: 4 = Full signal, all bars present
1 = Only the dot is present
1027, 1034 and 2034 meters (3369,3382,6673 feet): point of return
The Alfa set of 3 antennas turned out to work well. They are screwed on just like the standard antennas and their weight is low (see photographs). Of course you have to keep the antennas pointed at the drone but as you can see from the result in the graph, this was not a problem. Comparing the Alfa-results at 2034 meters with the standard antennas at 1027 meters I would't be suprised if a distance of 1,5 miles would be possible without videoissues. (my H520E is only 'CE'!)
With these results I think I will use the standard antennas for distances up to about 1500 feet (i.e. most situations), for longer distances I'll use the Alfas.
Perhaps this information is of use to other forum members?
I record every flight on video (by the hdmi-out of the ST16) to study and learn from afterwards, including the flight of over 2 km (6673 feet). Personally I found it rather impressive to see an 'ordinary' H520E CE-version fly to a distance of nearly 7000 feet without any disturbance in video (on the ST16 screen). Of course it's a large file but if anyone would like to see it I will be happy to make it available via a filetransfer site (is than available for a week or so). The other 2 files could be made avialable to, of course.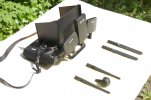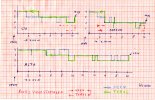 Last edited: