Joined

Nov 28, 2019
Messages

451
Reaction score

265
Age

47
Location
I am starting this thread to talk specifically about performing PPK with the H520E RTK data. Please confine your thoughts to that and hopefully we will end up with a concise guide.
I am currently running with RTK corrections and have about 9 flights in but I am not liking the residuals that I am seeing on camera GPS value relocations as the projects get larger. The checkpoints have been within our 5cm (+/- 0.15ft) tolerance, but as the project gets larger the residuals on the camera locations start approaching 1.5ft XY. The awesome part is that the verticals are staying right around 5-6cm or below.
My primary reason for wanting to do PPK is to have verification of the RTK flight. Those who have flown a P4RTK and have not checked their data via PPK are not providing work to actual survey-grade and would not be accepted by a PLS. I have seen the PPK Timestamps file that is be created in the images folder, but do not quite see how that is going to help anything regarding PPK... and what are the values in the columns?!
Please note your experience as you go there! It's really a shame that it is marketed as capable but there is absolutely no direction from Yuneec development.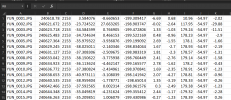 If you are interested in other testing and updates on the use of the H520E RTK in construction mapping check out this thread.
The other threads seemed to be going a slightly different direction so I decided to start this new thread for practical experience on unboxing through troubleshooting, configuration and firmware updates. I will be using the E90X camera. I finally got everything in from Vertigo and am starting...

yuneecpilots.com