Joined

Mar 23, 2016
Messages

1,580
Reaction score

1,179
Location
I would try the following thins one by another:
- Connect copper foil to ground to have better shield against interferences between camera WiFi and GPS receiver. or impfove shielding with a second copper foil inside the body around the camera location.
- A ferrit core on the power wires between mainboard and camera connector.
- Put the compass away from the camera and test it.
- From Blade 350QX I know about a problem with power supply (but on the 5V rail). GPS module is connected to 5V. To overcome this problem an additional codensator 100myF (low ESR) was used. Maybe the same may help on Q500 mainboard.
Here is the location at 350's mainboard: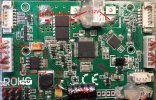 Q500 mainboard is nearly the same.
br HE