Moderator/Tech Junkie
Staff member
Premium Pilot
Joined

Dec 25, 2017
Messages

7,366
Reaction score

4,245
Location
Looking at the values of J3, J4, and J2 in the logs it seems quite apparent that the sticks need to be cleaned and then possibly calibrated. Earlier logs show slightly deviant centered values especially on J4 and J2 (which are the left/right axis of both sticks). They appear to get progressively worse over time which indicates more corrosion. Before flying again I would advise opening the ST16 and removing the control gimbals and cleaning the potentiometers and connections with a plastic safe contact cleaner.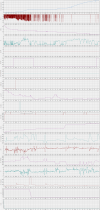 Center neutral value for all control sticks is 2048. As seen in the graph above the only stick axis that is at that value is J1 throttle. I see that inputs from the sticks are seen by the aircraft the entire flight although the reaction seems somewhat less as the aircraft got farther away. This could be an effect of reduced although not absent RC control signal. It seems that the Rate slider was most likely in the Turtle position as the output range of the sticks seems limited in value range.
@h-elsner
brought up the use of the cruise control d-pad on the lower right as a possible reason for the offsets in right stick values. That could be a possibility, but any abrupt movement of the right stick would cancel those values, and I do not see a return to normal neutral values for the right stick.
If there was significant wind it might explain the drift if the Rate slider was indeed in Turtle position.