Hi fellow H520 pilots!
Just a warning concerning the last big software update in Europe. Recently my yuneec H520 asked to do a major update of the updatepilot, remote control, datapilot, E90, flightcontrol and gimbal that all needed to be updated. All updates were executed and OK. All calibrations were done successfully.
Today I took the H520 then for a flight. Luckily, I did this on our model aircraft terrain as a MAJOR problem occurred.
context: All GPS signals, RSSI, battery status, temperature, KP, etc. were perfect at start-up. I checked if I can switch to manual mode after taking off: all controls worked perfectly. Monitoring during flight also showed no problem what so ever. No interferences as this is a model aircraft terrain. Prior I never had problems here. No other RPAS were flying today.
all of a sudden, I get an error mentioning that there is no more connection between the RC and the H520. The H520 is not controllable anymore, only at some very limited and intermittent moments a signal gets trough, but the H520 keeps executing the last command it received (e.g. full speed ahead). I finally managed to land the drone, but I was VERY lucky no one was flying, nor present at the time I flew today!! In the details I see the drone keeps switching between WiFi and analog and vice versa. Never had that prior to this last update. It also shows it enters in Failsafe mode, yet no control is possible... I don't get the notice 'home point updated' anymore either... I don't know what is the failsafe mode as it is not described in the manual (v1.6) of the H520... I suppose it is meant to do a RTH, yet it definitely did not do that! As you can see in the screenshots, this happened to me every time I flew. So, completely shutting down and restarting did not help, and it is clearly a structural problem as it didn't just occur once, but every time I was flying!
Besides that problem, also the camera is faulty since the update. You can start it for video, or trigger it for photos, but after you end the video or after 2-3 photos, the shutter button keeps spinning and none of the camera buttons react anymore...
Besides these two big problems, I also noticed that the region of interest is gone in de menu. Why? Please, this was a major advantage compared to DJI drones, and now it's gone... Yuneec should reactivate it again.
But the main issue is the problem (loss of RC and camera problem) described above. I can't understand how a company as Yuneec can issue a faulty update like that. If I would have been on a professional mission in a city centre, I would definitely have lost my H520 as it certainly would have crashed into a building or tree.
Just wanted to warn you all...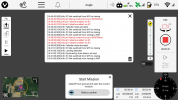 Last edited: